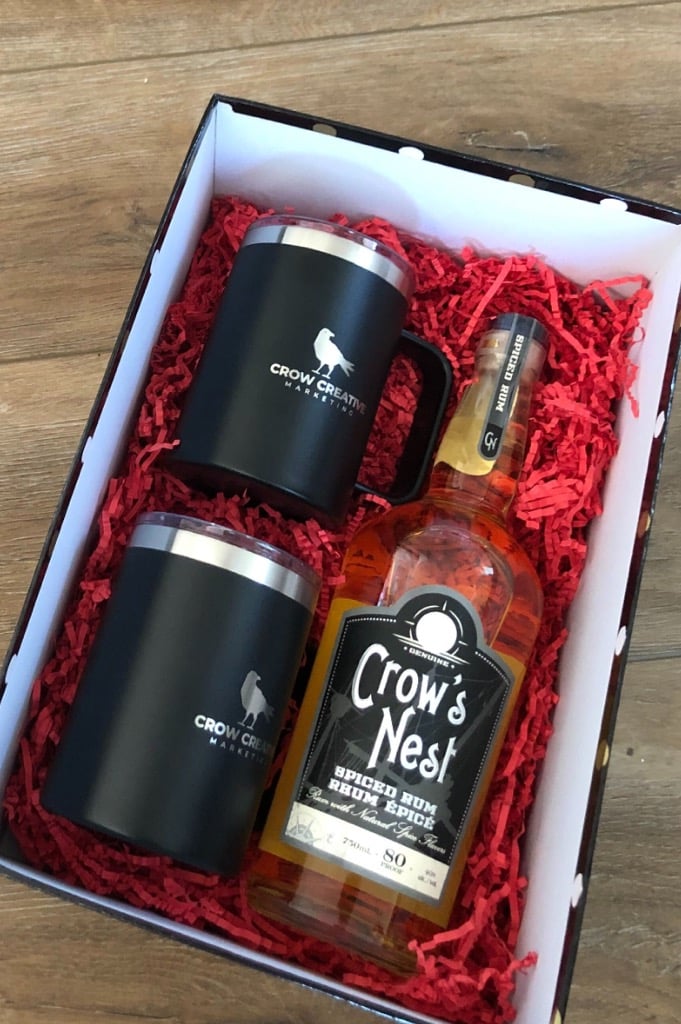 The Team At Crow Creative was looking for a unique Christmas gift for their key customers. They came to us with the challenge of creating a promotional campaign that could be delivered on time, on budget and wow their very discerning clientele. Crow's mission is to deliver consistent results, engage in innovative ideas, and be a reliable partner throughout the marketing journey and beyond.
Take a bottle of liquor, and elevate this gift to a point where it stands out from the rest.  Zach and the team at Crow Creative Marketing found a bottle of spiced rum that was surprisingly delicious. They wanted to give this gift to their marketing clients. We thought it would be a great idea to pair the rum with a set of mugs. The idea was to create a gift set that would knock their socks off.  Taking black notes from the bottle, we chose a sleek black travel cup that would be perfect for hot or cold drinks.  The Crow logo was subtly etched into the mugs for a timeless and classy look that can go anywhere.
This campaign was such a hit that people started sending pictures to Zach and us of these mugs in action! (no pictures of the rum in action).  We received a bevy of shots including the mugs perched on a river bed and before they were even removed from the beautiful gift box.  Kudos to Zach and his team for letting us play along on this amazingly successful marketing campaign.