Saskatchewa Rush Case Study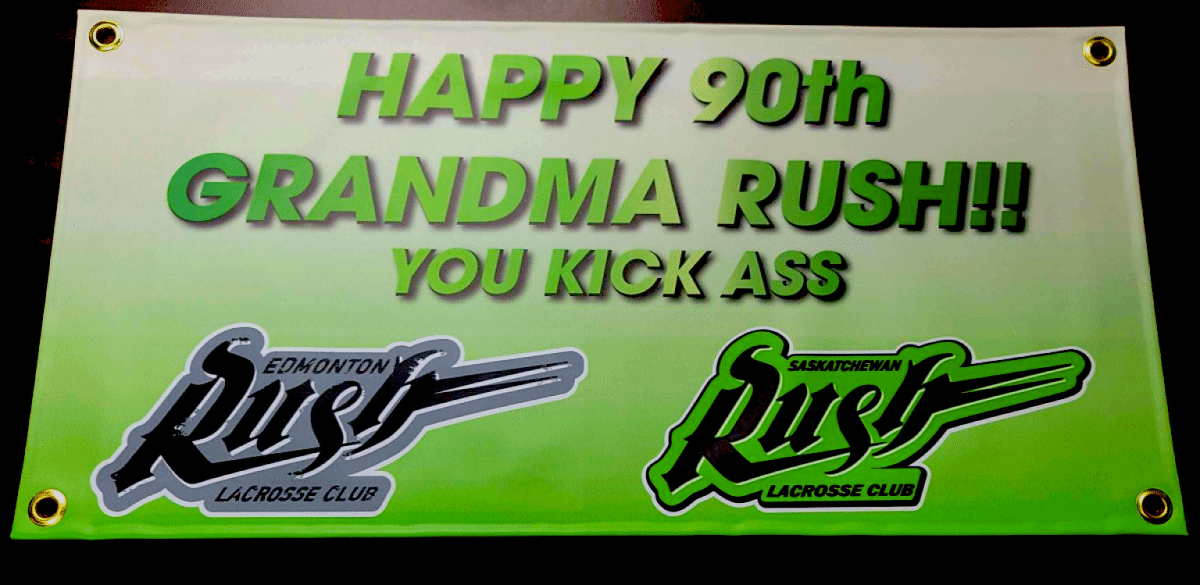 We have had close ties to the Saskatchewan Rush Lacrosse Team since our owner Russ had season tickets in their early seasons.  Russ also acted as a Rush Ambassador within the community at events and at one time was even the Rush Mascot at a couple of local events.  This long standing relationship has had us at the beck and call of their marketing team. We have done all sorts of giveaways in the stadium including stress balls, stadium giveaways of shirts and jerseys, BBQ Spatulas and more!
The Challenge:  Grandma Rush, the matriarch and biggest super fan of the Saskatchewan Rush was turning 90 and the date was only 2 days away!  We got a call that they wanted to create small banner for Grandma Rush to commemorate her 90th birthday for her COVID 19 drive by celebration.  Grandma Rush has been a fan of the Rush since their Inaugural season. It was important to show the history of their relationship by including the Edmonton Rush logo within the design. 
The results: Our team designed a banner that was just as kickass as Grandma Rush is as a fan.  Prominently featuring both the Saskatchewan Rush and the Edmonton Rush logos along side a heart felt message being sent from Rush nation to the lady herself.  We were able to get this banner printed, sewn and grommeted all within 24 hours.  It's amazing what you can do when a company shows this much loyalty to you over a nearly 15 year span! Hopefully the Rush and Grandma Rush are both around in 10 years so we can make a banner for big #100 as well.  Good luck to the Priestner family in their new ownership of this storied franchise.