WOW these are some amazing new products!
Every year The Promo Addict Team takes the trek from Sherwood Park Alberta to Las Vegas Nevada to checkout the top promo items of the year!  We missed last year because of the Pandemic, but this year we planned it all out.  We had flights, hotels, we are all boosted! But alas, COVID struck once again and derailed our plans.  However through the magic of the internet, we were able to tour the show from home!  We scoured hundreds of booths, every social media channel of people using the #PPAIEXPO hashtag and dozens of hours of video tours of the show to find the best promotional merchandise items for 2022 just for you!  Yes we still sell black coffee mugs and cotton hoodies, but this list was made to show you the newest, coolest, most badass eye popping swag that's out there for this year.
Here is the list
This list is in no particular order, so just because something is first does not mean it's the best, just that it made the list. If you want to see the pricing and details on each item, go checkout the online shop we made here and contact your account manager if this inspires you to make something impressive for this year.
Designed for home or office, the new Ember Mug² does more than simply keep your coffee hot. Our smart mug allows you to set an exact drinking temperature, so your coffee is never too hot, or too cold. Smart LED indicates when beverage has reached its perfect temperature and more. Select your temperature range as 120°F – 145°F (50°C – 62.5 °C) on the mug or with the Ember app. Built-in Auto-Sleep function intelligently senses when to turn on and off. Ember then maintains your chosen temperature for up to 80 minutes with the Ember Mug² 14 oz – so your hot beverage stays perfect. Ember Mug² is safe to hand wash and submersible up to 1 meter in water.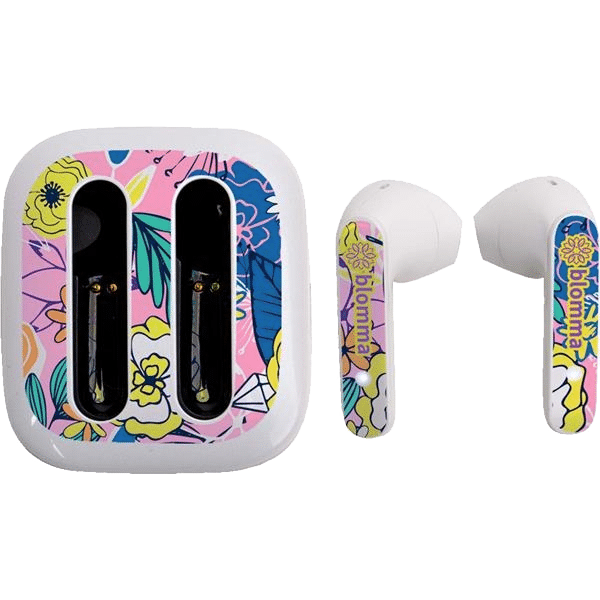 Amplify your audio listening experience with the Amplifiears wireless earbuds! You'll never miss a beat with a low latency mode that will fully immerse you in phone calls, gaming, and watching videos. You can easily take these with you – being only 20mm thick, they can fit in almost any pocket with ease. With a premium Aluminum alloy construction, Amplifiears are durable and lightweight, making these your next go-to earbuds. Direct to Substrate.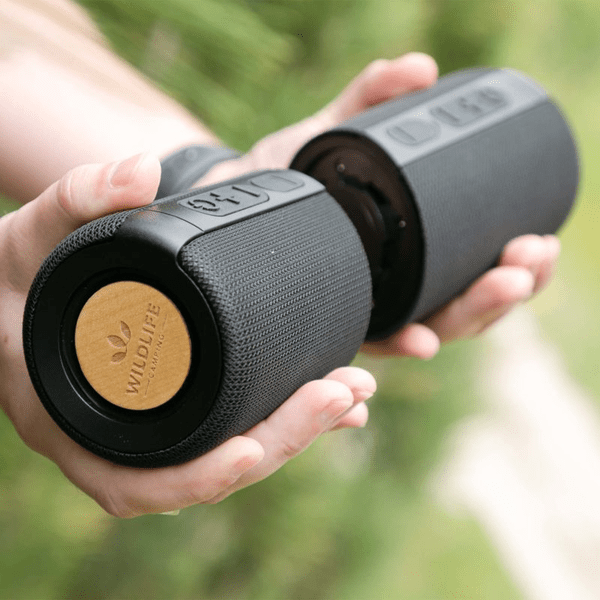 This speaker is impressive because it's a 6-watt speaker that can break into 2 pieces so that you will have 3 watts of stereo surround sound.  Let us say you are camping and want to have even sound around the fire without cranking up the volume so nobody can enjoy the evening, break this speaker apart and have lighter music on both sides of the fire.  Like the Hive speaker that was released a few years ago, this innovation gives you two speakers in 1, while the hive was just a lonely, connected speaker on its own.
DIGITALLY PRINTED KITCHEN SCALE WITH FOOD TRAY
It is January, so everyone is hitting the gym and eating healthy.  They do say being healthy is the best way to beat COVID.  Helping people stay healthy is all about teaching them what they are putting into their bodies. This cute little kitchen scale is not only affordable, but it also comes with a full coverage full color imprint on the scale portion of the unit.  This scale would be great for home cooks, baking, BBQ, measuring food and more.  Take a permanent space in your customers or employee's kitchens with this great home use gadget!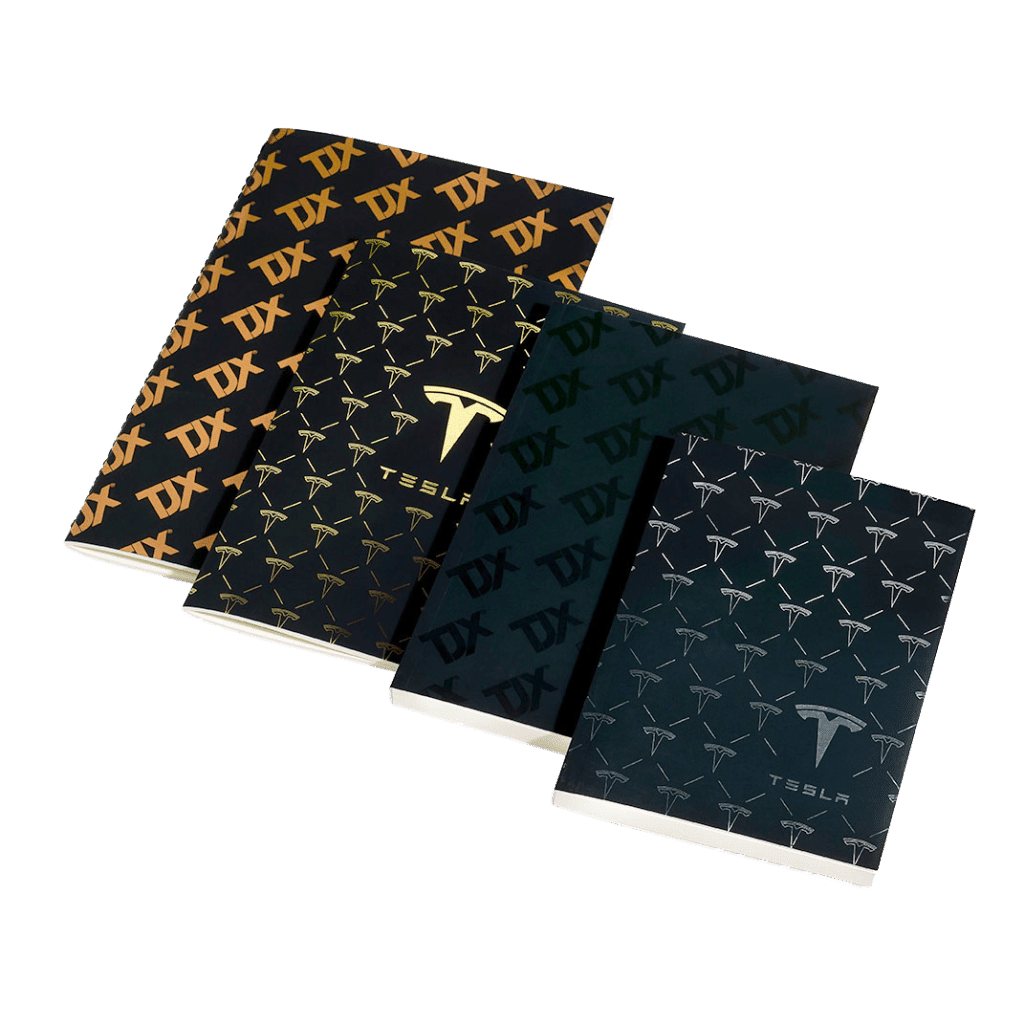 SCRIBL NOTEBOOKS WITH REFLECTIVE BRANDING
The new reflective branding from Scribl is incredible.  It literally makes your brand shine on the face of a domestically made high quality notebook.  There are lots of great branding options for these books which are full customizable, but this new reflective branding pops off the page like nothing we have seen before.  If you are looking for a high end feel with a mid range price, consider this inexpensive upgrade to making your books that much cooler.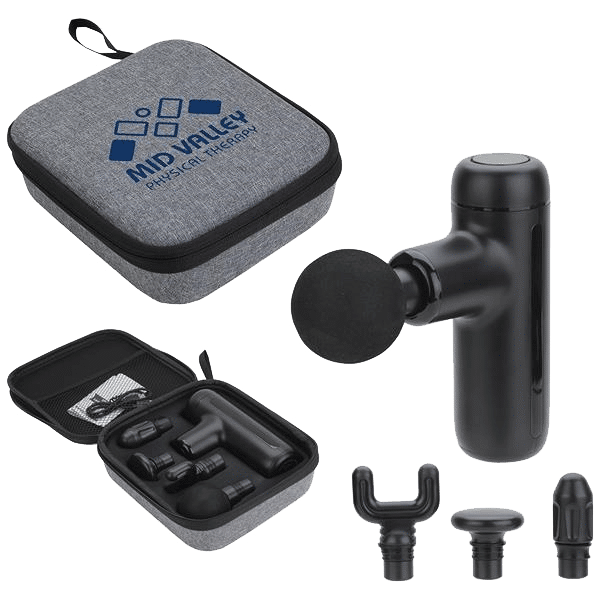 CADENCE DEEP TISSUE MASSAGE GUN
I am in love with this product, and so are many of you!  This was on our top Christmas gifts last year, but it sold out so quickly that we couldn't even get our hands on a sample!  So, when we saw it at the Vegas show, we knew it had to make it back into the top products list.  With stock expected to arrive back in around February, it's time to help massage away the pain of the last 2 years with this awesome little promo item.
BE WELL MINIATURE ELECTRIC HEATED BLANKET
We have all had one of those bean bags that you throw in the microwave and then use it to relieve sore muscles, but then it gets cold, and you don't really want to get up to throw it back into the microwave.  Well, this is that! Except no microwave at all.  This miniature heated blanket plugs in to give you the hot muscle relaxation warmth you would expect of a bean bag, but without the work and it stays hot if you need.  Not to be confused with a normal size electric blanket, this little guy is only 17" x 12", so enough to heat up 1 leg, but not enough to warm your whole body, unless you are a purse puppy.
TERRACOTTA MINIATURE GROW KITS
Terracotta miniature grow kits are going to be a very hot item this year.  You can choose from a bunch of different plants to grow including champagne poppies, aloe vera and more.  These are a great desk top item, or something to take home for your kitchen sink or countertop. The natural hydroponic wicking of the terracotta helps to bring water and nutrients where they are needed and will make this a cherished giveaway, just add water and sunlight.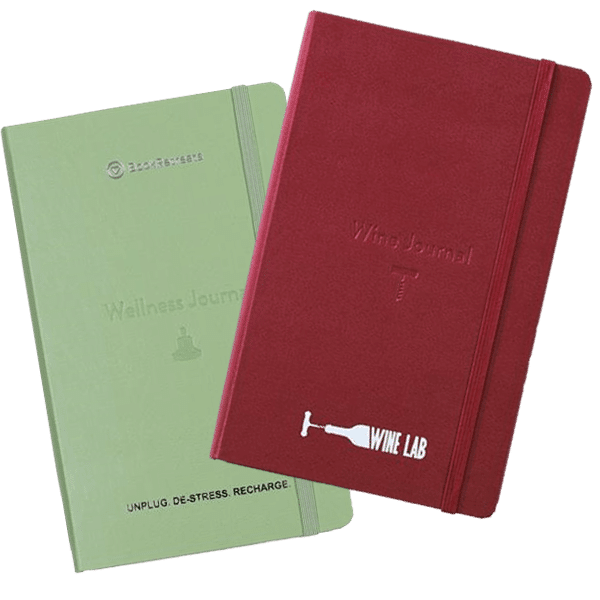 MOLESKIN PASSION JOURNALS
I have been journaling for 4 years and let me tell you that it is one of the most therapeutic things a person can do.  It helps you reflect on your favorite activities, ground you in the moment and reflect on your experiences.  Moleskin recently released a series of passion journals… no, not that type of passion. The 3 journals we picked for this list are Wine, Movies and Television and Wellness, there are others too, just ask us or maybe we can come up with a custom one for you.  I can't imagine if I had started a movies and Television passion journal 10 years ago the gems that would be written in it.  Or if I had started a wine journal when I was in my mid 20's, the legacy that would have been created from years and years of tasting notes, different vintages and what I could learn and reminisce.
UPCYCLED ZIPPERED POUCHES
This pouch is made of fabric remnants that would have otherwise been discarded. The goal here is to be useful, not wasteful. This eco friendly item is great for storing your charging cables or change, great for people who are passionate about keeping items out of the landfill and instead finding uses for items that would have been just tossed.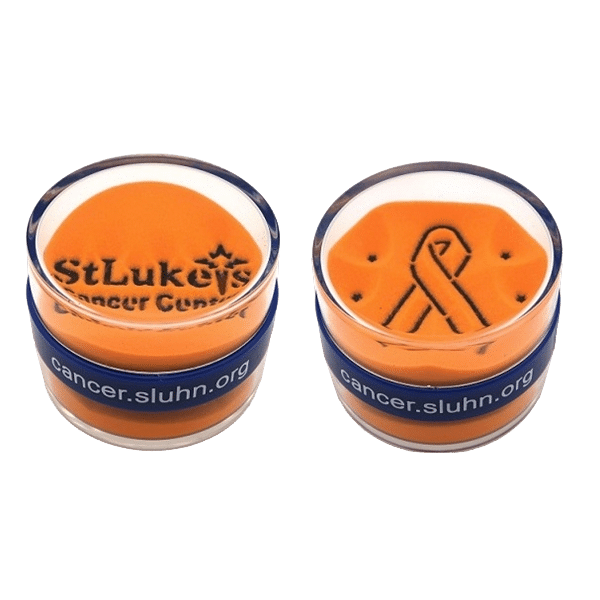 SANDVERTISING SIFTER PAPERWEIGHTS
This is the ultimate desktop paperweight.  This fun desktop item is great for fidgeting and fiddling with, because when you shake up the sand on the inside, it automatically filters the sand to create the logo when it settles. A very cool desktop item that acts as a paperweight, but also a stress reliever as you watch the sand settle into revealing your amazing brand.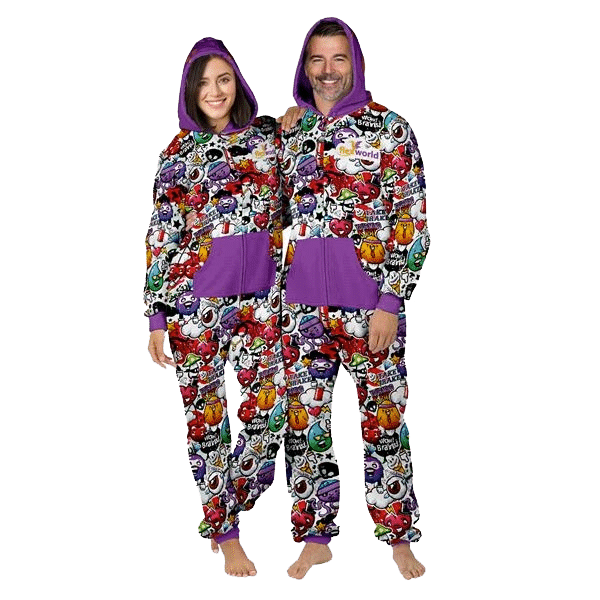 CUSTOM MADE IN CANADA ONESIES
These amazing custom onesies are incredible because not only are onesies very popular right now, but they are also sustainably made in Canada and have a very low minimum of only 5 units!  Great for Dance Teams, Gymnastics Clubs or other sporting clubs to create camaraderie amongst the athletes, or maybe you just have a family of 5 that's wants matching pyjamas.
CUSTOM MADE IN CANADA HOODIES
These fully made in Canada custom hoodies are dye sublimated all over for the full custom look.  Just like the onesies listed above, they have low minimums and are super comfortable. With only a 10-piece minimum, fully custom apparel is within reach and you can proudly show off that you are supporting the Canadian economy while sporting some awesome threads!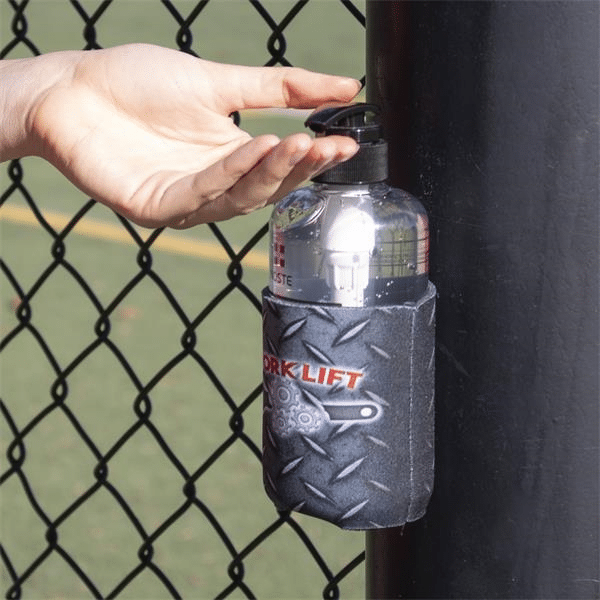 I do not want to be showing you the Magnet Coolie!  I want to be showing you the new Light up coolie!  It's the same as the magnet coolie, but instead of a magnet, they put in a super bright LED light!  The problem however is that the product is so new, the only place I saw it was in an obscure video on twitter, so I couldn't even get a picture of it and the supplier has not added it to their website!  So, I guess this product is coming soon, but in the meantime check out the super functional and pretty good Magnet Coolies, not as cool as the light up ones, but probably still pretty OK.
LOOK AT ME LAPTOP LED LIGHT
You may or may not have seen the viral Tik Tok trend of the ring light challenge where people put the ring light behind their head and then the light go out to reveal a silhouette of them eating cake or doing a dance.  While fun, rings lights are most often used to make you look more natural during video conference.  This miniature ring light is designed to balance you out with white light while on the go, I got a sample of this item right before the show, and I liked it quite a bit.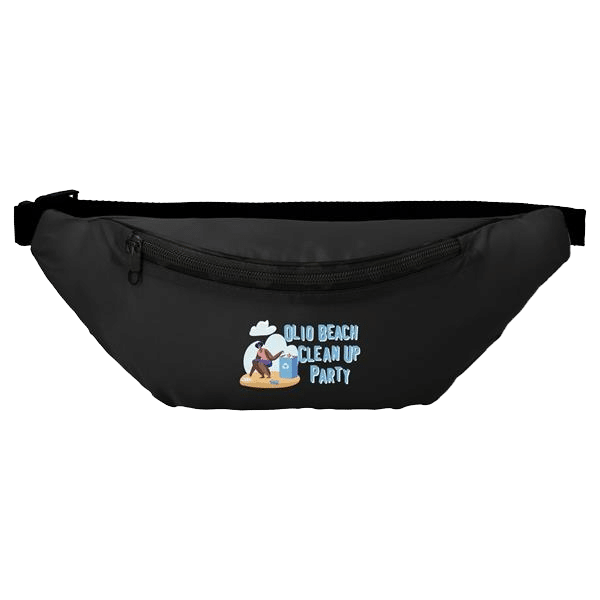 RECYCLED HIPSTER FANNY PACK
Made from recycled water bottles, the only way to make this more hipsters would be to put a water bottle into it and then walk around with your water bottle being held by recycled water bottles.  This might be Meta instead of hipster, but either way, taking over the green evolution of our industry is the prevalence of earth friendly materials becoming more and more common in everyday items, which is awesome.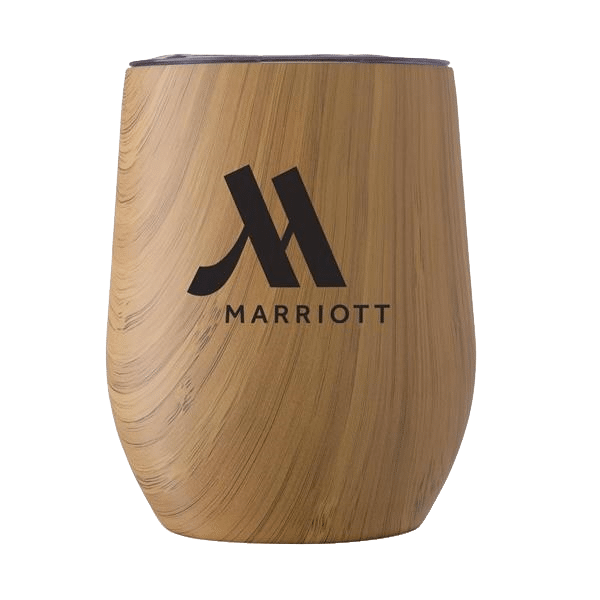 NATURAL WOOD GRAIN STAINLESS TUMBLER
With the look of a stemless wineglass, but the functionality of a double walled insulated coffee mug, this wood grain appearance mug is sure to stun its users with beauty and function. Super easy to clean and ice cube friendly, this mug would be great for the outdoors to drink your coffee in the morning or your wine in the evening.
This cup is awesome because it is made out of 50% recycled coffee grounds, 15% corn starch and 35% melamine. It has a textured coffee ground finish and no, it does not smell like coffee.  This is the ultimate in reused product that is printed all over with the recycle re-use symbol.  The only draw back to this item is that the sleeve is where the logo goes instead of the cup itself, but either way, coffee grounds are the new wheat straw and I believe you will start seeing more and more coffee hybrid plastics in the near future as utensils, Bluetooth speakers and more.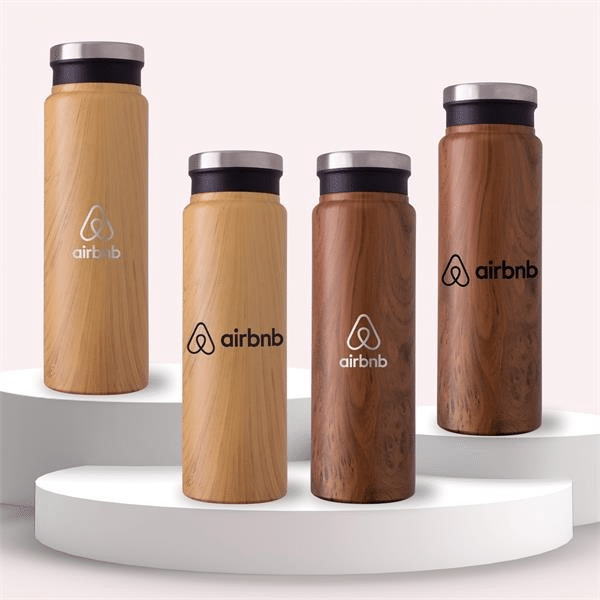 TREND SETTER NATURAL BOTTLES
These incredible 20 oz stainless steel water bottles are paired with a natural woodgrain finish. The wide mouth feature makes it easy to drink out of, add ice or simply sip your drinks. The leakproof threaded lid is nice and wide for easy opening and the matte feel of these bottles is incredible.
We all love to snuggle under a nice soft blanket, these packable outdoor blankets are awesome for taking camping or on a picnic.  The best part, however, is that they are fully custom!  You get to print this blanket all over in full color.  Custom cut and sewn in the United States, this puffy blanket will make your brand sing when it's pulled out of its pouch, and it comes with a fully custom drawstring pouch as well. It is machine washable and made of a lightweight nylon material that can shed beach sand, grass or sandwich crumbs with a light shake.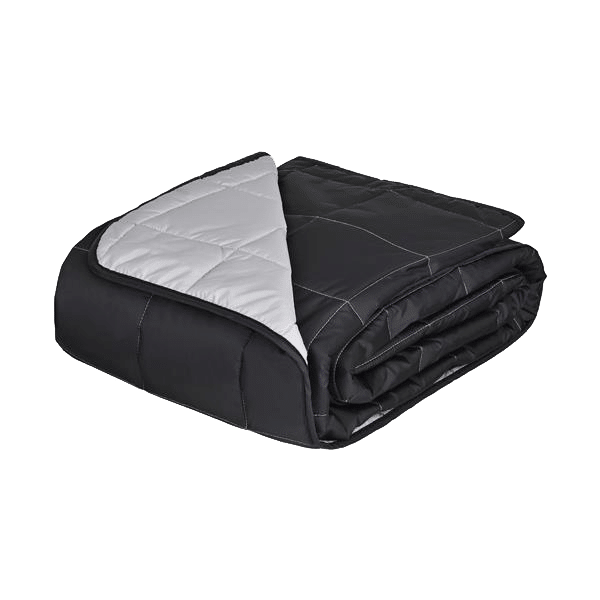 BACK COUNTRY INSULATED BLANKET
I know what you are thinking, how can an insulated blanket cost less than a fully custom one?  Well because this blanket is only decorated on the pouch and not on the blanket itself, this blanket has quite a bit less labor in the manufacturing.  Carrying a little less branding, but a lot higher perceived value, this blanket is great for those cold summer nights.  Those crisp evenings around the campfire are made that much better with an insulated quilted designed blanket to cuddle with.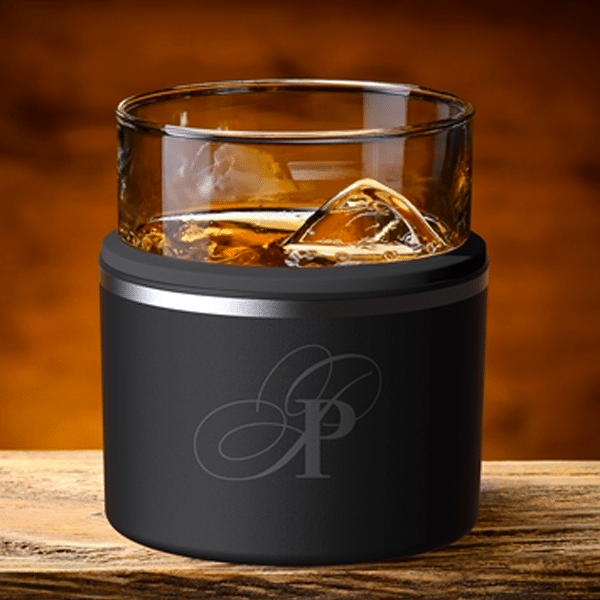 INSULATED ON THE ROCKS KUZIE
This insulated scotch glass was the most popular gift at our sister BBQ store last summer.  It is a great way to sip your scotch or whisky without having it warm up from your hand. This Kuzie comes with a premium rocks glass that is protected by the double walled insulated metal Kuzie cover.  Definitely a great gift for the discerning whisky drinker in your life, consider this premium giveaway as a nice pairing for gifting a bottle of whisky, scotch, bourbon, vodka, gin or rum to your clients as a closing gift, Christmas gift or general thank you.
The Zen 12 lb weighted blanket has been a very popular gift these past couple of years.  Weighted blankets are getting quite popular to overcome anxiety, because they make you feel like you are being cuddled from all sides. This blanket gives you a warm embrace by being filled with glass beads and microfibre. This is a great giveaway as part of a mental health awareness program or just to give to someone that you know is under pressure either at work or at home.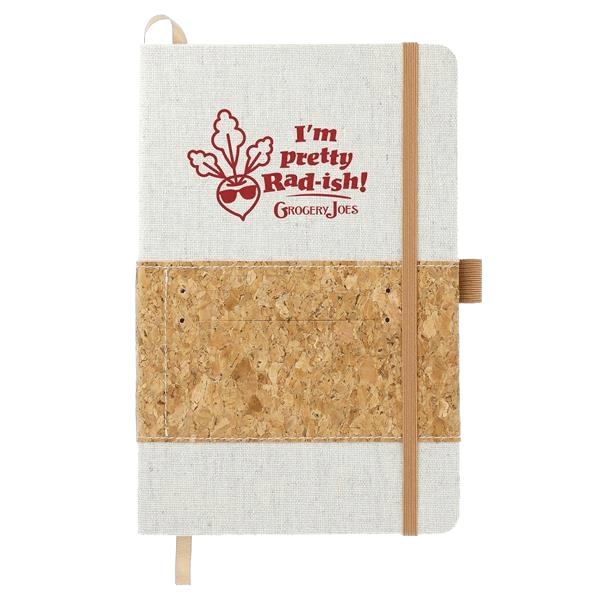 RECYCLED COTTON AND CORK BOUND NOTEBOOK
People have been making sheets of paper out of cotton for years, but when it's done with recycled cotton and another cork sighting on the top list, this book arrives at a whole other level of being eco friendly.  The manufacturer also donates 1% of all sales to a program called 1% for the planet, an internationally recognized organization that works to fight climate change.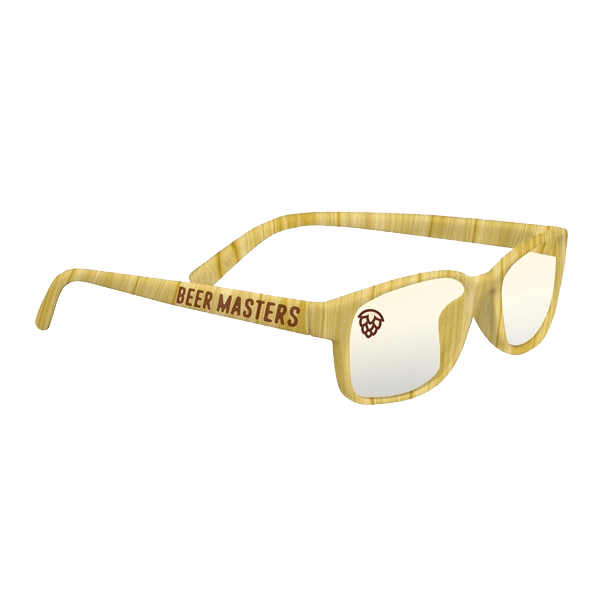 WOOD GRAIN BLUE LIGHT GLASSES
Help eliminate eye strain with these cool looking blue light limiting glasses. We spend too much time in front of screens that produce blue light that can be harmful and damaging to your eyes.  Giving someone a pair of fashionable blue light glasses is a great way to keep your brand at the ready in front of their computer at work, on their nightstand or coffee table at home.  Many customers and staff will show off your brand all day long with this stylish gift!
SEQUIN CAN KOOLER FROM KOOZIE
People always ask me what the coolest or weirdest piece of swag I have is, and then when they see it, they often buy the more normal version of that gift.  That's ok! But in this instance, I think this item might sell.  The sequin can Koozie is exactly as advertised, it is just a koozie with bright colored metallic sequins all over.  I could see this item being very popular with events like Pride Parades, Mardi Gras Style events or Caribbean festivals.  Very popular accessories for Vegas flamingo girls, sequins are brite and fun, so if your event is bright and fun, this could be the perfect inexpensive accessory or giveaway.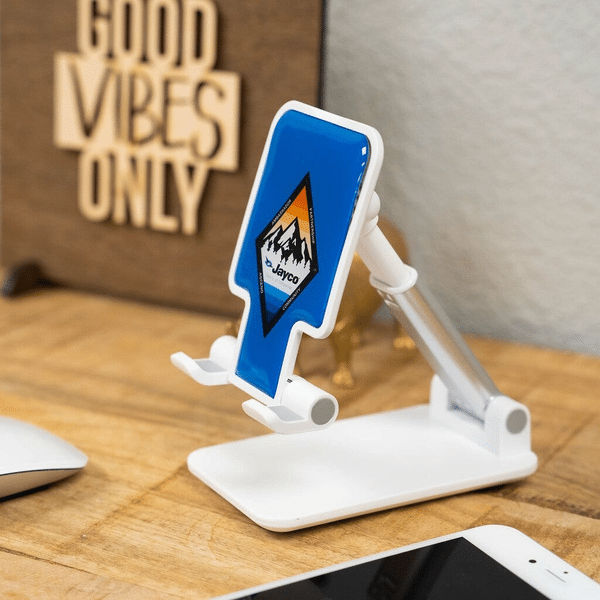 TELE-PORT ADJUSTABLE PHONE HOLDER
This is the ultimate phone stand!  You have all driven down the highway and seen a bunch of tele handlers parked in a parking lot with all their booms raised; they do this to save space, but it's also a great advertisement.  Well now you can help people raise their phone up on their desk to a more manageable height for viewing while deep in focus at the office.  The design of this phone holder is very similar to a tele-handler.  It can raise up and tilt your phone for optimal holding no matter the layout of someone's desk.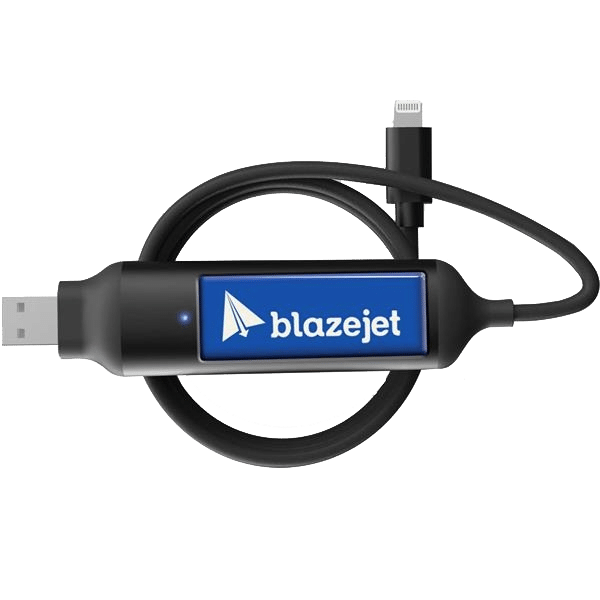 Charging cables are a great giveaway because most people own at least 3 charging cables.  They have one in their vehicle, one at work and one by their bed, although some people have way more than that.  So the trick to getting your merch into the mix is to have it be better, cooler or weirder than one they already. own.  This boost cable ticks all the boxes.  It has a built in 1000 MAH power bank that automatically charges as you charge your phone. So, let's say you are on the go, and you have your cable, but nowhere to plug in, you can get yourself an extra 20-30% juice on your device by just plugging directly into your cable!  This innovative little piece of tech might be a glimpse into the future of battery storage for cellphones and even other devices as well.
CLIP BUDDIES BLUETOOTH SPEAKER AND HEADPHONES
This cool little Bluetooth speaker is great for taking on an adventure where you are going to want to share some music with friends, but then when the party dies off and you want to listen more privately, you can just open up the back of the speaker to pull out the 2 wireless headphones and plug them into your eyes for a different style of listening.  This cool 2 in one devise is something that the promotional business has always been good at.  We often mash up things like water bottles and wallets, or lanyards and lip balm or other weird things like that, but in this case the 2 items really do work well together, so bravo to the manufacturer of this cool new promo item.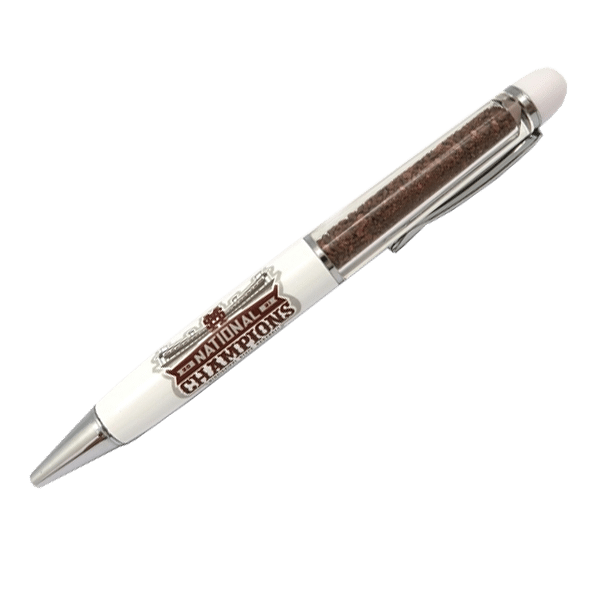 You have seen it before; they close an NHL arena, and they sell capsules of water from the ice or when they closed Yankee stadium you could buy a capsule of the turf or infield dirt.  Well now you can have that piece of memorabilia embedded into a pen. These twist action pens can be filled with anything from soybeans to dirt to liquid or sand.  If you want to mark the commemoration or building a building or tearing one down, this is a great way to capture a piece of the history into an inexpensive giveaway item for all the people involved.
This is a list of a few final items that are not actually items, and we cannot sell you.  Consider these to be the free ideas of great marketing examples found at the PPAI expo in Vegas for 2022.
The organizer of the event PPAI (Promotional Products Association International) threw a huge party at Allegiant Stadium in Las Vegas where people could hang out on the field and on the concourse enjoying food and drinks plus music and more.  I am here to tell you about one of the "more" items.  The association hired a professional cigar roller to come in and make custom banded cigars on site.  This was a cool giveaway because they were able to create a memorable branded giveaway right before the eyes of the receiver from scratch.  All they had to do was hire the maker who brought their own tobacco and rolling equipment and provide custom cigar bands.  People could choose to smoke them that night or take them home to their humidors as a lasting memory of the event.  Plus its educational because lots of people have never seen a cigar being rolled, so it would have been a very cool experience to see live and in person. Great job PPAI team!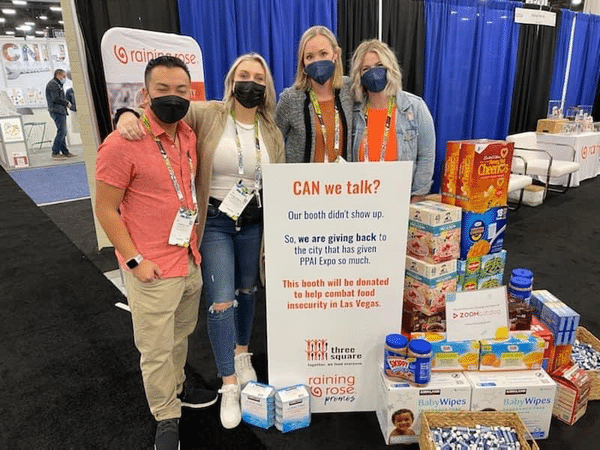 ENGAGING PEOPLE WHEN IT ALL FALLS APART
The best laid plans of mice and men often go awry!  We can plan and plan to make sure a tradeshow goes off perfectly, but there are so many things that must go right to execute on a plan to exhibit at a trade show, and that could not be truer in a pandemic with global shipping issues all around.  Well, that happened to one of our favorite Lip Balm Suppliers at PPAI, Raining Rose.  Their booth didn't show up!  Can you imagine spending 10s of thousands of dollars on attending a tradeshow and then not having a booth? Neither could I…. but the team at Raining Rose turned a negative into a positive by converting their booth space into a space to collect donations for local Las Vegas Charities.  They put up a sign asking people to stop in for a conversation with them about upcoming projects, opportunities and more amongst items they were donating to local charities.  They also engaged people at the show to make donations as well, which I am told was massively successful. So even though they didn't have all of their free lip balm samples and engaging signs and frontage, they definitely engaged their biggest fans and probably created some new ones by active altruistically and pivoting hard and fast.
And that's a Wrap!  Can't wait to go "back" to Vegas in 2023 to find the top items once again!